If you've seen the astonishing film Pride you will have heard of the LGSM – the Lesbians and Gays Support the Miners group.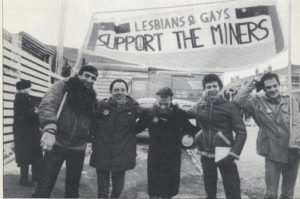 The LGSM built solidarity links with the South Wales mining communities during the 1984 Miners' Strike and also donated funds to the Nottinghamshire Women's Support Group. The money raised was used to sustain striking miners and their families throughout the duration of the strike. Money was raised primarily from collections at gay pubs and clubs and on the pavement outside Gay's The Word bookshop.
When the film came out it sparked a renewed interest in this extraordinary story that culminated in Pride the following year being led by a traditional miners' brass band – which for the time was heart stopping stuff. Activists from the original LGSM have been touring, speaking about the struggle and attending Pride and many other events all over the world.
It's an inspiring story and one that, until recently, was little known outside of the far left. That the power of brilliant film making we suppose.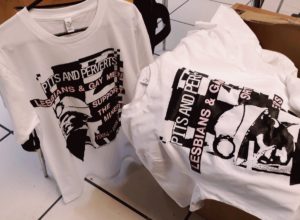 At Jepps Books we are lucky enough to stock their fund raising T-shirt "Pits and Perverts" for the miners – taken from a solidarity poster at the time. We also have badges, posters and all kinds of nik-naks that we so often stock. Come in and see.
If you can't get to us you can also buy various things online at this link or, if you don't see what you want email us and we shall see what we can do!