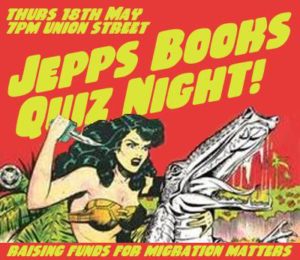 Come along to the first Jepps Books Quiz night where we will be raising funds for the excellent and too necessary Migration Matters Festival.
It's on Thursday 18th May and *important to note* it is at the Union Street co-working space, S1 2JP. Come at 7pm.
Sign up and share the Facebook event here.
There will be book prizes kindly donated by radical left publishers Pluto and Verso books. There will be refreshments, a raffle, brain teasers and perhaps more if we think of it.