The book nook at Theatre Deli is in a state of constant improvement. Today, for the first time, we have actual shelves – well fancy that.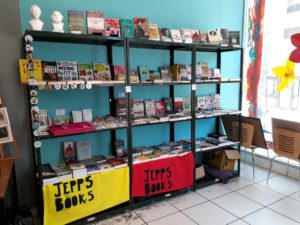 We've also got in new stock and have a feeling of general permanence in our brand new pop-up. Sheffield needs a radical bookshop and Jepps Books is here to try to make that happen – we're halfway there, if not more!
I know what you're asking yourself… how can I help in this outstanding project? Well, listen up;
a. if you're in the area come down and buy something. Then tell people how awesome the emporium is while displaying your purchase to them. I'm devoting myself to making this happen full time so it needs to work financially as well as morally!
b. If you have left field/radical/feminist books that you'd like to donate that would be incredible. Books are made to be read, so don't let yours just sit there doing nothing. We've got a nice collection of second hand books for sale and we're keen to keep them coming in. Just bring yours down while we're open and we will take them off your hands.
c. if you know people or groups in Sheffield that you think might be interested – let them know.
d. as you can see the website is up and running and we're going to start posting book reviews, interviews and other things of interest – as well as the tedious world of our business hours. If you fancy writing a review, or have an idea – go for it! Email jim@jeppsbooks.co.uk
e. any other helpful advise, or contacts, or knowledge of pots of money hanging around waiting to be claimed by a peripatetic bookseller? We're interested. Veeeeeery interested.